Smee & Blogg, The Singing Executioners
present:
Raven Lunatics!
An Edgar Allen Poe Christmas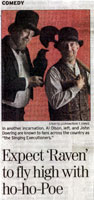 Click above for an article about the 2005 show

October, 2005

Press Release

Are you ready for something completely different this Christmas? "Raven Lunatics" at the Rose Marine Theatre will fill the bill.

Previously presented as an "Edgar Allen Poe Christmas Show" at the Kansas City, MO Dickens Fair, it introduces Titus Grimmley, mortician, and his ever faithful assistant and gravedigger Bloggsworth, as they celebrate the Yuletide in a series of songs and sketches dipped from a bubbling cauldron of Poe, Dickens, Clement Moore, Jingle Bells and Elvis.

"Raven Lunatics", in its second year in Ft. Worth, is the first theatrical production of Smee and Blogg, who have been touring the country for twenty-six years as the Singing Executioners, carving a career out of macabre song parodies and physical humor. Al Olson and John Doering, both writer/performers, have also appeared as Eustace and Floyd, a comedy country show. This Christmas production is an expanded version of the material presented twice in Missouri and once in Oklahoma and is suitable for all ages.

The Rose Marine Theatre is located at 1440 N. Main Street in Fort Worth, just south of the Stockyards.

Performances will be at 7:30 pm on Thursday, December 15 through Sunday, December 18 with matinees on Saturday and Sunday at 2:00.

Ticket prices are $12 adults, $10 students and seniors and $6 children 5-12.
For reservations & info call:
817-808-SMEE (7633)
Click on the link on the right to see some footage from the 2005 show.
(Quicktime, 11.4MB, 06:42)